I Turned My Apartment Into a Surveillance State With These Petcube Cameras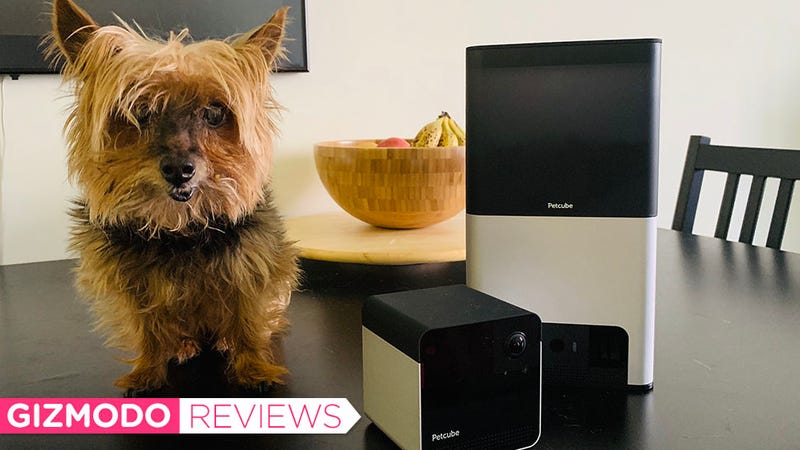 All pet owners wonder what their furry 'lil babies get up to while the humans are gone. That's been especially true for me lately. While my partner's sassy cat Pablo and my derpy, elderly Yorkshire Terrier Daisy mostly ignore each other, they do get into the occasional tiff. Recently, Daisy's taken to hiding under the bed—a habit I noticed she picked up only when we leave for work and she's left alone with Pablo for hours at a time. I couldn't say for certain Pablo was bullying her, but that's where the Petcube Bites 2 and Petcube Play 2 come in.
Both cameras update Petcube's original offerings, the Bites and Play, double as Amazon Alexa smart speakers, and feature a wider 160-degree field of view and more powerful zoom. Both cost $200, and the main difference between the two is the Play 2 comes with a built-in laser for playtime, while the Bites 2 lets you fling treats. Like the originals, they still come with night vision, 1080p camera resolution, and two-way audio.
I set up both cameras in my tiny 565-square foot studio apartment, the Play 2 in the "bedroom" and the Bites 2 in the "living room." Setup was pretty seamless within the Petcube app, even for the Alexa feature which was a pleasant surprise. With the exception of a few blind spots, the cameras were able to capture the areas my pets frequent most often. Petcube says it plans to expand that view even further to 180 degrees via a software update sometime this year, but 160 degrees is probably sufficient for most rooms. Size-wise they're virtually identical to the previous generation. The Play 2, which is intended for pets who chase lasers, is the more discrete option at 3.6 by 3.2 by 3.6 inches. The Bites 2 is larger at 5.7 by 3 by 10 inches, but a little top-heavy due to the treat dispenser sitting up top. That means, as with the previous generation, it's easy for more rowdy pets to knock it over. Wall mounting is possible and recommended.
Spying on the furballs was pretty easy, as was managing multiple cameras from the Petcube app. There were a few issues with lag when connecting via my phone's data, and the connection occasionally dropped out. Loading older clips into my feed also took a bit. This was common with the previous generation (and one reason Petcube was not considered our favorite treat cam), but aside from these minor annoyances, I never experienced anything egregious.
As for video, I appreciated the app's Care Awake scheduling options. Basically, you can set the cameras to only record during certain hours so uh, you don't accidentally get footage of yourself walking around naked after a shower or other embarrassing activities. Pretty handy for those of us living in a shoebox. It also lets you fiddle around with what triggers a video recording (i.e., motion detection, sound detection, if a user interacts with the camera, etc.). If you're not keen on shelling out for Petcube's subscription plan, the free version gives you a 4-hour video history but any videos or photos you want to keep will have to be recorded or snapped manually. Subscribing will get you smarter filters—like pet, human, bark, and meowing detection—on top of video downloads, and expanded video history. That said, I found the app left something to be desired when it came to motion notifications. Sometimes I got 40 at once, or they came well after the chance to interact with a pet long passed.